Rescued Animals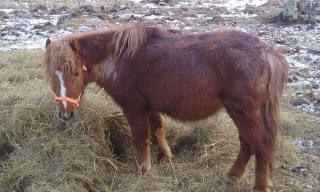 This is chester, we got him the winter of 2016. He was suppose to be a 2 year old stud pony that was calm and friendly. When we got him he was blind in one eye, he had lice so bad he had bold paches all over him, he was skin and bones and not friendly at all. We have treated him for his lice and got that all undercontrol we have him on a good diet so he is gaining weight quickly, and we are working on him getting friendly but it will take some time he has had a rough start but we will make a wonderful pony out of him. He has a long life ahead of him and we will make sure it's a good one.

The horses pictured below are horses we saved from being shipped off to slaughter. They were in holding pens down south of the cities. The horses that end up there have less than a week before they get on the trailer to take them to the slaughter house. As much as we would like to bring all the horses home with us we just can't. So here are some of the ones we have saved, and we hope to go down and save more when we can.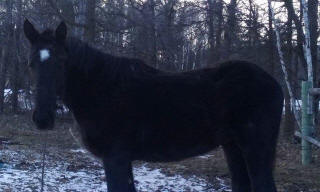 This is Widowmaker, he is a 2 yr old percheron gelding. We got him the winter of 2016. He was very weak and skinny but we are putting weight on him and working on getting him in good shape.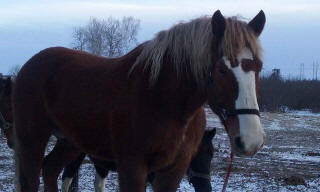 This is Big John, he is a 16yr old Belgian Gelding. We got him the winter of 2016. He was used and worked very hard as a work horse in the fields. He injured his leg from being worked so hard that is why he ended up at slaughter. We are getting him fixed up so he will be good and he never has to worry about that fait again.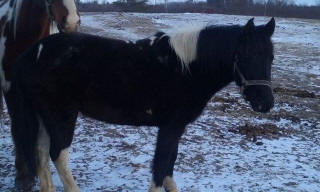 This is dash, he is a 5 yr old pinto pony. We got him the winter of 2016. He has not ben handled much which is probably why he ended up in a bad situation. We are getting him friendly and working with him daily. He will be a great pony.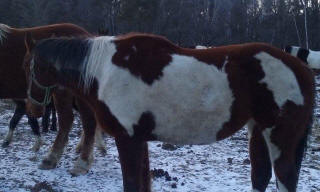 This is Jewel, she is a 10 yr old overo mare. We got him the winter of 2016. We went to go pick up a couple of the others in the holding pens and she must have known it was her last day before she got shipped out, cause she walked right up to us, she followed us around and essentially put her head in the halter as to say "Please don't leave me". So we brought her home too.