Horse Boarding & Breaking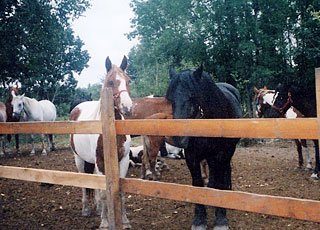 Horse Boarding
We have 280 acres that our horses roam through where ever they want. Sounds kind of like paradise to me, roaming the woods with 130 of your friends munching on grass, running through the woods at will or just having fun rolling the dirt. That is what your horse could experience when you board your horse with us. We do not have indoor stalls for your horse to be locked up in; we believe no horse belongs to be thrown in jail. Your horse will be rounded up every morning so we can check on him/her and make sure it is as happy as it left the night before.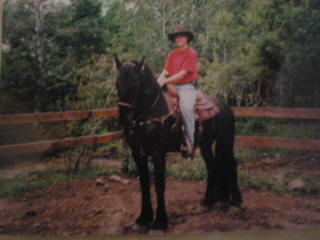 Horse Breaking & Training
Maybe you love horses and have your own horse but can't ride it because it isn't trained and you don't have the experience to train it. Katie is our horse trainer and does an excellent job working with your horse. She uses a very nice yet firm hand to train you horse. Katie knows that you have to have lots of patience and love when training a horse. "A horse should listen because it trusts you not because it fears you." Not everyone can train horses it takes a lot of talent on the riders part knowing how to read the horse and understand why it does the things it does. If you would like information on how to get your horse trained give the stable a call.